Customer Marketing Connects Strategy and Tactics
Jamie Kirmess / February 27, 2019 /
0 Comments
Customer Marketing Introduction
This post builds on an introductory article by LeadMD's Chief Strategy Officer, JT Bricker. Check out his post introducing the customer marketing framework. It provides an overview of our framework and challenges you to consider how much of your effort should be put towards customer marketing in the first place. If you don't have time to read the first article, here's the skinny: Before creating a customer marketing plan, it's vital to develop, and align on, customer segmentation, buyer personas, a customer success strategy, and most importantly objectives and KPIs. You'll see that "strategy" is the first pillar in our framework.
If you're confident that your organization's strategy is sound and the org is aligned around this strategy, you'd also ideally want to ensure your customer marketing process is secure as well. Luckily, we have posts on customer lifecycle and customer scoring (with the other two coming soon!) to read through and ensure you're good to go. Assuming your strategy and process are ready, let's dig in on customer marketing planning.
Customer Marketing Plan Example
At LeadMD, we don't talk in concepts alone. We like to show how concepts come to life by using real-world scenarios. Throughout this post, we'll show you how the concept being discussed could be applied to a fictitious SAAS-based education platform, 4School.
The examples used are conceptual and would have more detail in the real world. For example, you'll see that one of 4School's persona's is a teacher. Even the idea that "teacher" is a standalone persona begs the question – what type of teacher? Do factors like grade taught, subject matter, tenure or class size matter? But, we keep it high level to keep it simple.
What is Customer Marketing?
Creating a customer marketing plan is the process of determining the explicit steps a marketing team will take to accomplish its objectives.
Let's take 4School as an example. This year, one of the organizational goals is to reduce churn. Every department is focused on that outcome. The product team is making significant investments in product speed and functionality. The customer success team is making changes to the way customer success managers are organized and compensated. Sales is focused on bringing in the right new customers and their compensation has been adjusted to multiply their earnings based on customer longevity instead of only new logo attainment.
Within Marketing, an objective for reducing churn might be: Create a world-class customer onboarding experience.
A few key performance indicators for this objective might be:
Onboarding experience plan is complete by end of Q1
Development is done by end of Q2
Clients are being successfully onboarded by the beginning of Q3
Product usage within new customers going through the onboarding experience increases by 50%
Eventually, you'll want to measure churn reduction as well. But unless you have very short sales cycles, you won't see the impact of your efforts until the first cohort of clients is up for its contract renewal.
So, back to planning. This won't be the only big initiative/campaign you'll focus on this year to help reduce churn. Here are a few more objectives you're responsible for:
Implement a net promoter score
Develop an advocacy program
Train customer success team on how to effectively use marketing collateral
See – there's a lot going on! You need a plan to get it all done.
Who Should You Involve in Creating a Customer Marketing Plan?
If you've already mapped out the customer lifecycle, you'll know that the customer is touched by many departments within your organization. Any department who interacts with or affects the customer should be consulted. That includes your billing and legal departments! At LeadMD, we use the RACI model – who is responsible, accountable, consulted and informed in the plan?
How Often Should You Update A Customer Marketing Plan?
There's not one answer for this. Generally speaking, your plan should be updated when your strategy or objectives and KPIs change. Your plan should be agile enough to react to new needs or significant changes externally or internally. If 4School started losing customers to a hot new platform, for example, your timeline for creating an onboarding experience may get pushed out so that you can help combat this new competitor.  That doesn't mean the onboarding experience doesn't get done – it just means that your plan needs to be agile.
At a minimum, you should review your plan quarterly.
Customer Marketing Planning: Five Core Focus Areas
LeadMD's best practice customer marketing plan includes five focus areas:
Messaging and Positioning
Organization Design
Budget Planning
Campaign/Play Planning
Content/Asset Planning
Messaging and Positioning
Your organization should already have a brand strategy describing what your brand stands for, how your brand is different from competitors, and how your products help solve your buyer's problems.
And while a brand strategy is a critical foundation, it is too broad for a plan. During the messaging and positioning planning phase, we must develop a position and messages to help meet our objectives.
Let's see how this plays out in practice.
4School's Strategic Positioning Statement: 4Schools simplifies the lives of k-12 administrators and teachers by connecting everyone in the education ecosystem.
Using that positioning statement as a guide, you must develop a position and create messages related to your objective, which in this example, is to create a world-class onboarding experience.
First, identify who the onboarding experience impacts more and what pain points the onboarding experience will solve. Then, create client-facing messages that get them to take action.
For Example: Messaging Alignment Plan
| | | |
| --- | --- | --- |
| Persona | Pain Point | Message |
| Administrator | Personally invested in 4Schools because she was the signer, but her teachers haven't adopted it yet because they are "too busy." | Teachers who complete onboarding adopt the platform 50% faster than those who do not. |
| Teacher | Time is a major battle. They only have one hour a day where they aren't teaching class, and most of the time they spend that hour filling in for other teachers. | Teachers who use 4Schools reduce administrative time by 25%. It only takes 10 minutes a day over the next week for you to start saving time. |
| Curriculum Director | Constantly feels like he is pushing curriculum without a way to collect feedback from teachers on how it's working. | Start collecting continuous feedback from teachers today. Skip to chapter 5 in our onboarding program for immediate results. |
Organizational Design
During the organizational design phase of your customer marketing plan determine how to organize the people, core business processes, technology and systems to support your goals.
Depending on your organization's maturity with customer marketing, this planning phase can look quite different.
If you already have resources dedicated to customer marketing, you may find that you focus more on optimizing what you already have in order to meet your objectives. This may require a change in headcount, new technology or the structure of your customer marketing resources.
One of the pain points we hear from clients with dedicated customer marketing resources is that they still do not have enough people to be successful. One of the most impactful ways to help with resource allocation is to work through a customer segmentation exercise. What clients are most valuable? Which segments have the propensity to buy? What customers have the highest LTV? Which are most engaged with marketing? These are all questions you should ask yourself when thinking about how to organize your customer marketing resources.
Pop Quiz
Think about your customer segmentation. Should you invest in eliminating your most negative customers? Or invest resources in turning 4, 5 and 6 customers into 7s? The answer is outlined in a comment on this LinkedIn Post.
If you're new to customer marketing, this phase of planning requires more time. I recommend starting with the segmentation exercise above. This will help you gain better perspective on the value of customer marketing, which will then make investing decisions – whether people investments or tech investments – much easier.
Helpful Baselines
It may also be helpful to look at benchmarks in the industry. Here are a few early indicators that you should invest in customer marketing:
Five or more customer success managers
Each customer success manager has at least 100 accounts
$10 million in ARR
Then, compare your team's capacity (time) and their capabilities (skills) to meet your customer marketing objectives. Influitive does a good job explaining the role of a customer marketing manager
Budget Planning
You probably already thought about your budget while you created your objectives and KPIs. For example, if your onboarding experience requires the purchase of a "community" platform or a video vendor, you had to make a mental note that those would be significant investments. During the planning phase, it's time to take the numbers living in your head and solidify what the actual investment might be.
A Grocery Shopping Analogy with Kristen Bell
Budget planning is like going grocery shopping. Before going to the store, you spend time finding recipes you want to make for the week (your objectives). You make lists of ingredients you'll need, decide when to purchase those ingredients and how much those ingredients cost. This is your plan.
But you know yourself. You know that as you walk around the store, some items that weren't on the list will fall into the cart.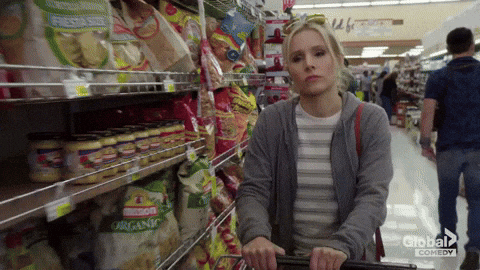 Some ingredients will be more expensive than you thought. You may not be able to find some ingredients, so you'll have to find acceptable substitutes.
That's why your budget has to have some wiggle room. It's the same when planning your marketing budget. You won't be able to get down to the exact dollar and cent, and you will constantly be making real-time decisions based on the value they bring to your life. If you decide to splurge on a bottle of wine because a night in with your girlfriends brings more value than the nice cut of steak you budgeted for, that's a tradeoff.
The important part about that analogy is the value equation. In customer marketing, it is critical to understand the "golden metric" – customer lifetime value – to effectively distribute your budget. If you believe that spending 20% more now will help to reduce churn by 20%, what does that mean for the bottom line?
Another consideration is understanding ROI by marketing channel. Where are your customers engaging? Attribution vendors, like Bizible or Bright Funnel, help to highlight which channels are working best and can be invaluable in budget distribution decisions. For a comprehensive analysis of the most popular attribution partners on the market, check out this blog post.
Campaign/Play Planning
Creating compelling marketing campaigns and plays helps to persuade your customer to feel or act in a way that helps you meet your objectives.
The difference between a campaign and a play is in the audience. Campaigns are more mass in scale – they are messages directed at a segment of customers. For example, 4Schools runs a webinar for all of its customers on a specific topic. Plays run when a meaningful event takes place within a specific customer account. For example, a customer may get a new stakeholder. Plays help identify those meaningful events and create a pre-defined set of actions that marketing and/or customer success will take.
When thinking about your customer marketing plan for campaigns and plays, it helps to have a few things handy: Your objectives, customer journey, personas plus messaging, a product release calendar and a calendar outlining themes in the education industry (like back to school).
For Example: Campaign/Play Planning
Let's see how these items would impact 4Schools campaign and play planning:
Company Objective: Reduce Churn
Marketing Objective: Create a world class customer onboarding experience.
Insight: The majority of customers churn in year one because the product doesn't get adopted by teachers. Teachers say they don't have time to learn the platform.
Pain Point: Time. Teachers don't have time to learn a new platform.
Message: Teachers who use 4Schools reduce administrative time by 25%. It only takes 10 minutes a day over the next week for you to start saving time.
Customer Journey: Are there points in the customer journey that require campaigns or plays? You may learn that teachers aren't adopting the platform because they are brought into the onboarding experience only after an administrator has purchased the platform. If that is the case, there may be an opportunity to increase excitement for the platform earlier in their process by running plays within the account.
Consider Themes: "Back to School" and "standardized testing" represent major events/themes that our customers pay attention to. Are you able to leverage either of those themes to be more relevant?
Internal Calendars: Is your product getting new features? Are you shifting your pricing model? Changes like this may require dedicated campaigning inside your customer base.
How will you know you've successfully completed this step? If your campaign calendar shows the persona you're targeting, the main messages, intended action, budget, and timing, you're done!
Content/Asset Planning
With your campaigns and plays outlined, the next step in your customer marketing plan requires a content and asset evaluation. During this evaluation, you should group content in the following buckets:
Use
Repurpose
Create
If you're looking for a handy content audit framework, check out this post from Joy on my team.
You may also find it valuable to develop a Big Rock content strategy, where you build smaller pieces of content like blog posts, infographics or webinars from one "big rock" piece of content like a white paper. This works in the opposite direction, too – building "big rock" pieces from smaller assets you already have.
We always recommend keeping a running list of content assets tagged by persona, lifecycle stage, product feature, content type and pain point. This helps you assess content you can repurpose versus what content needs to be created.
Conclusion: The Customer Marketing Plan
Investing the time to create a customer marketing plan allows your marketing team to feel more in control, helps the team prioritize initiatives and provides a solid foundation for executional success. We see so many organizations with great strategy and great people performing day-to-day tactics, but fall down when it comes to process and planning. With this handy framework, hopefully you'll have everything you need to succeed!
If not, shameless plug, this is what we're best at, so give us a call! Or, who am I kidding? No one wants to talk on the phone anymore! Go ahead and use our little chat in the corner to ask questions about this or any other topic on your mind. Our friendly consultants are standing by to chat with you!
Comments
Powered by WP LinkPress