We are well into event season and in-between the booth setup, after parties, workshops, breakdown, and more, it's easy to stash away event details and booth scans and forget them. Fast-forward a few months and all of a sudden we need event marketing acquisition numbers, meeting numbers, and ROI numbers. Errrrrr…
Part of a good Center of Excellence is the inclusion of event templates and processes that turn reactive scrambling to proactivity!
The People
The first, and arguably the most important, component is the people. Much like Dorothy, the Scarecrow, Tin Man, and the Lion – each person has diverse and important strengths to contribute on your yellow brick road to success.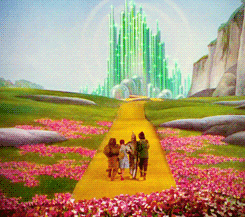 Defining Ownership for Event Marketing
Using a model, such as RACI, provides a great way to document everyone's roles in the event process.
Teams come in all sizes. Therefore, your roles and responsibilities will vary from the example above.
But this is a good tool to use because it not only outlines who is responsible for different pieces, but also defines who should be accountable, consulted, and informed – this isn't a one-person show.
The Processes
Unfortunately, it's not always as simple as following the yellow brick road. But, with the help of a framework you can reach your goals in a more orderly and efficient fashion. We outlined our campaign playbook example in detail here.
Your event framework would look pretty similar to that of your campaign framework, outlining stages, core questions, and milestones. Your stages might be something like:
Ideation
Strategy
Plan
Develop
Launch
Optimize
Understanding when certain "tasks" happen, such as approvals, activations or post-campaign performance reviews is essential. This will neatly tie into your shiny new RACI outline as well!
The Details
Specific event COE setups can give you a head-start in consistently and quickly executing event-related communications and tracking KPIs. These details will specify how to build out these elements in Marketo, but you can leverage these fundamentals in other marketing automation platforms as well.
Define Event Types
As an advanced marketer, you likely already know that your strategy, plan, and communication touchpoints for an event show the best results when they're customized for the tactic. Although they're both events, how you communicate to prospects and customers at tradeshows is likely to be different than your approach to a roadshow. What channels and program statuses should be setup to support these different event types?
A good way to make these decisions is to think through what need to see from an ROI standpoint. If you need to show how hosted events perform differently from tradeshows, they should be two separate channels.
After you make these differentiations, build the channels needed.
Build Program Templates
It's time to build some program templates. These give you a foundation to quickly clone each time an event takes place.
Event program templates can include the following, and will differ by event:
Emails – invitations, reminders, post-show follow-up's
Forms (and landing pages to house forms) – registration, meeting request, contest
Lists – For attendees, no-shows, meet-up's
Campaigns – To execute all necessary flows such as sending the emails and tracking program statuses
Program templates should be built with your business in mind, and still non-specific enough that you aren't carrying over old details when cloning. More tips on this and on training of the templates can be found in this blog post!
Some build tips and tricks include using:
Tokens – Events can be executed even quicker with the use of tokens. Consider pulling in tokens to set the values that will change with each event, such as: date, location, calendar invite, point of contact, etc.
Naming Conventions – Include consistent naming conventions in your program templates. This way when you clone them, it's easy to identify what to replace in the name and provides consistency for reporting.
Global Forms – If the event(s) don't require specialty forms (unique only to one event), you can build one global form to use across each event!
Clean Your Data – Our friends at Integrate have a great ebook on event data, which Kate Athmer, former Director of Demand Orchestration introduces quickly in her LinkedIn article here, "B2B Marketers Can Attribute Revenue to Event Investments. Here's How."
Hit the Road
Once you define the people, processes, and COE setup you are ready to hit the yellow brick road! Let us know your tips to reaching the Emerald City, or if your yellow brick road gets a little too windy and you get lost, we love helping our clients navigate forks in the road. You already know where you're going, we'll simply help you get there faster.
Want more? Here's some related content